Always wanted to wear a pair of suspenders stylishly, but weren't sure how to make it work? Or, maybe you're interested in purchasing a new pair, but want to make sure that you're making the right decision in your purchase?
Look no further than this article, where we will dive deep into the questions you've been dying to ask about suspender fashion, including but not limited to:
We'll answer these questions and more, and make sure that you look great wearing your new pair of suspenders. Let's get started with the basics.
---
How To Wear Clip-on Suspenders
---
---
Clip-on suspenders are more modern than the button hole suspenders, and are more practical for the modern man. These suspenders are versatile in that you can wear them with any type of pants, making it easy to pair your suspenders with your outfits. Button-on suspenders are considered more formal, but this is just because the design is an antiquated one. Clip-on suspenders can be worn with a formal outfit, and should be considered a high-quality accessory to your look.
---
How To Wear Button Suspenders
---
---
However, depending on what pants you're pairing with your suspenders, the button-on suspenders may be the better option. If you're in a wedding or need to go to a formal event, these are a great choice – that is, if you have the pants that will work with them. These suspenders require six hidden buttons located inside the waistband for the suspenders to loop into. If you don't have the pants to work with these types of suspenders, then you'll need to opt for the clip on version.
---
How To Wear Suspenders With Jeans
---
---
If you're going for a trendier, hipster look, you can make your suspenders work with jeans by pairing them with a fresh button-down shirt and a bow-tie, or a pair of fun sneakers that make your outfit seem trendy, but not too dressed up. This is an outfit you could wear casually to a fun outing with friends, or just out on the town. The result is a stylish outfit that's a youthful twist on a classic look.
---
How To Wear Suspenders With A Tuxedo Or Suit
---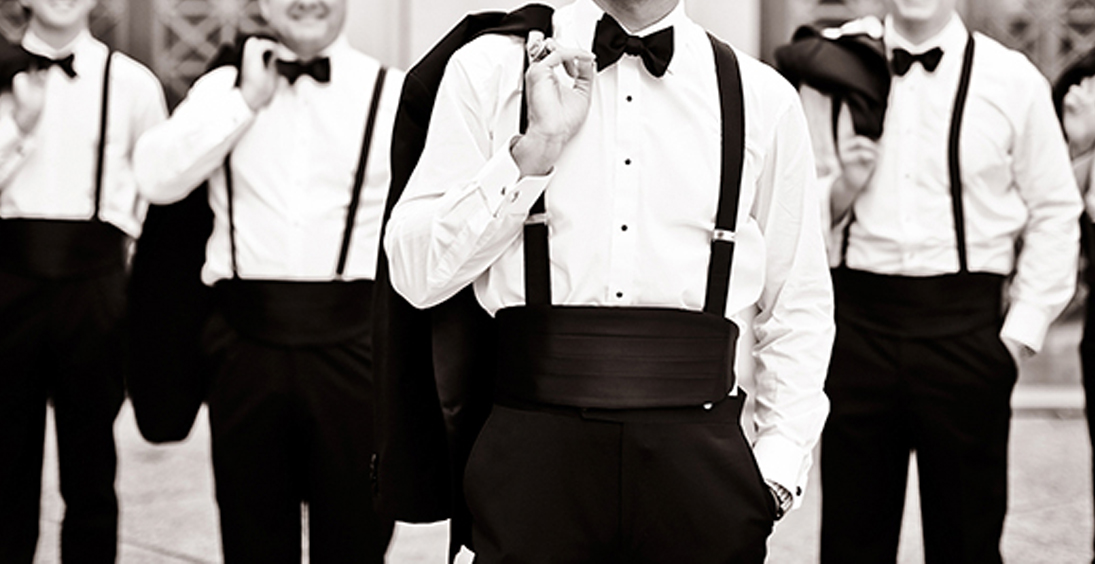 ---
If you're planning to wear suspenders with a tuxedo or a suit, the most important thing to consider is the style of the suspenders. You want to make sure that if you're wearing leather suspenders, that the leather matches that of your shoes. And, never wear a belt with your suspenders and a suit! It's either one or the other when you're making your fashion choice.
With a black suit or tuxedo, it's safe to go with a pair of black suspenders to match. If you're planning an outfit with a different colored jacket or funky tie, you can spice up your suspender design as well.
So, your suspender choice depends on where you're planning to wear them, what event or occasion you're dressing for, how they pair with the rest of your outfit, and of course, the practicality details.