Shipping Information
Gentleman's Guru offers free shipping options to most worldwide locations with no minimum purchase required. Our items are sourced from global suppliers and ship from international as well as domestic warehouse locations. Once an order has been shipped it can not be canceled.
Orders are processed and shipped Monday through Friday with exceptions for major holidays. Any order placed after 6 pm PST will be processed the following business day. Orders are processed as they are received. We do our best to process orders in a timely manner and many orders will ship within 24 hours. However, order processing may take up to 7 business days before shipping. Some items will require a longer processing time and this information is noted in the product description information.
Estimated delivery times for the United States vary and usually take between 7 – 20 business days to arrive. This is not a guaranteed delivery time. In certain circumstances, shipping may take longer. Shipping times to the rest of the world vary between 15 – 60 business days. Again, this is not a guaranteed delivery time and in certain circumstances, shipping may take longer. If you need a product delivered faster, please contact us before making your purchase to discuss shipping options and pricing.
Shipping is via local postal services once dispatched from the country of origin unless expedited delivery services have been used. Transit and delivery information can take 5 to 10 business days before it is updated on carrier websites. The updating of information on postal service websites is outside of our control. Shipping times can vary seasonally. If you have not received your order in the time advised when your order was placed, please contact us so that we can assist you in tracking and receiving your products.
Shipping times will be affected during domestic and international public holidays; manufacturers, couriers, and postal service providers will limit their operations at these times. This is outside our control. Normal service resumes immediately after each holiday. Any orders with items that have not been received within 60 days can apply to be refunded. 
Don't be alarmed if you don't receive all items in a large order at once. Not all items ordered are shipped from the same warehouse. You may receive your order in several shipments if you have ordered more than one item. Any import fees, customs taxes or additional costs imposed by the country of destination are the sole responsibility of the customer.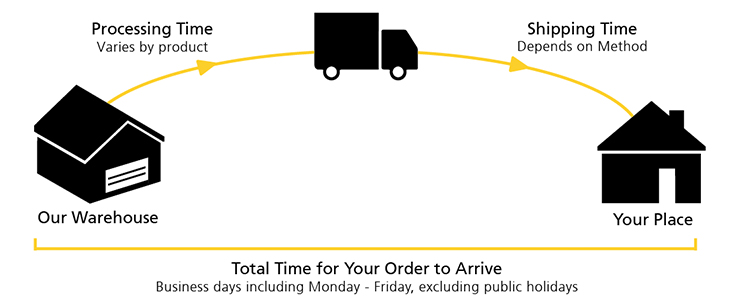 Full Money Back Guarantee
We will give you a Full Refund if your order does not arrive.


Shipping Safety
(Receive your items 100% in good condition)
We guarantee that the item you ordered will arrive in good condition.

Our Partners