Homecoming  is an exciting event – it is perhaps the most important night of your life at school! To ensure it is something to cherish and look back upon fondly in the years to come, you have to dress the part. A tiny slip can turn your ensemble into a disaster, so every detail of your homecoming suit has to be perfect and flawless.
Here are 10 of our Best homecoming Outfits for Guys in 2021: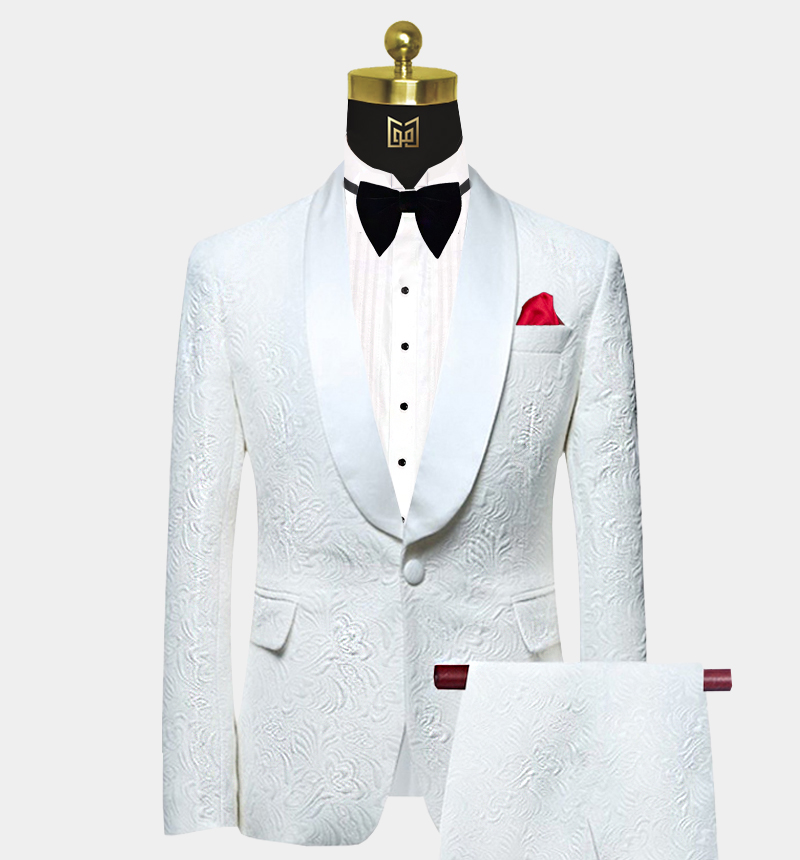 10 – The Floral All White Tuxedo with Shawl Lapel – 2 Piece
Go the unconventional route with this white floral tuxedo! With a bit of poise, you can easily pull off the look. The exquisite floral embroidery definitely catches your attention, but it is the pristine white color that makes this tux unique. This slim-fit 3-piece suit makes you look spruce and handsome. You can ask your date to wear something black, if you wish to create a fabulous contrasting effect and register a positive impression too. You never know, but it might set off a trend that carries on for years to come!
Shop Now
9 – The Floral All Navy Blue Tuxedo with Shawl Collar – 3 Piece
Attention to detail is important while selecting your outfit for homecoming. You have to look the part, in order to best the best dressed at homecoming, and this spectacular navy blue tux helps to accomplish that purpose. With delicate yet sophisticated floral embroidery on the jacket, waistcoat, and pants, along with satiny shawl lapels, you have picked a clear winner.  All you have to do is gather your confidence and maintain that suave aura throughout the party.  Take a good look in the mirror once you have put the ensemble together!
Shop Now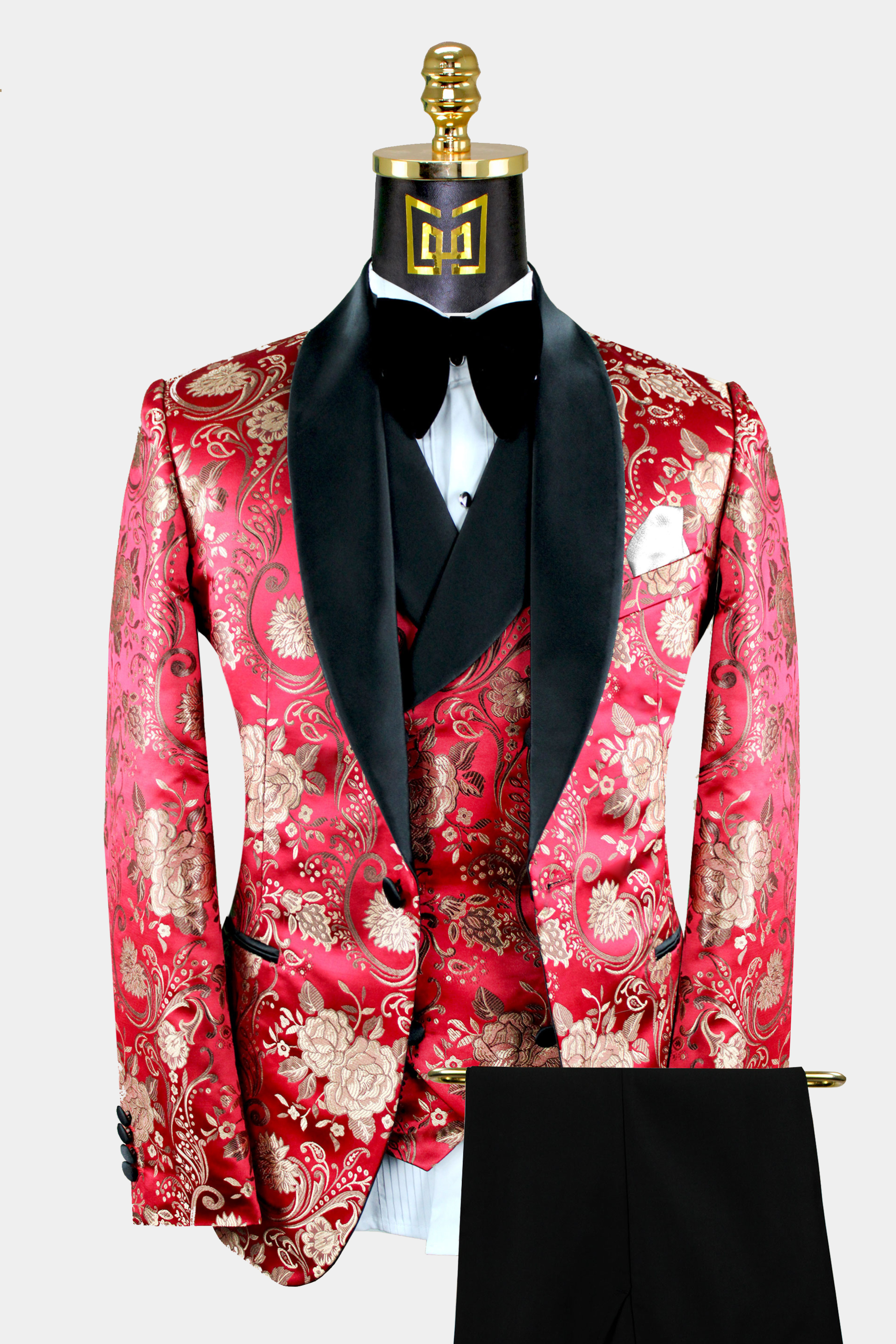 8 – The Ruby Red & Gold Floral Tuxedo – 3 Piece
This homecoming tuxedo is for those willing to experiment with bold colors and bring out the fun and playful side of their personality. The attractive gold print glitters delightfully against the ruby red fabric – it is a breathtaking display of colors, with black lapels accessorizing the jacket. You look cool and trendy, with a "take no prisoners" attitude, when you don this tux and stride into the venue. This year's homecoming is going to be talked about for long, due to your awesome attire.
Shop Now
7 – The Grey Paisley Tuxedo – 3 Piece
Wow – how suave and sexy you will look in this tux! Featuring a striking grey paisley pattern, the jacket gives off a retro vibe that is immensely appealing. The color combo is such that it won't take much effort to coordinate with your date's outfit as well. Add a colorful pocket square, but stick to a black bow tie. Ready to make this a night to remember?
Shop Now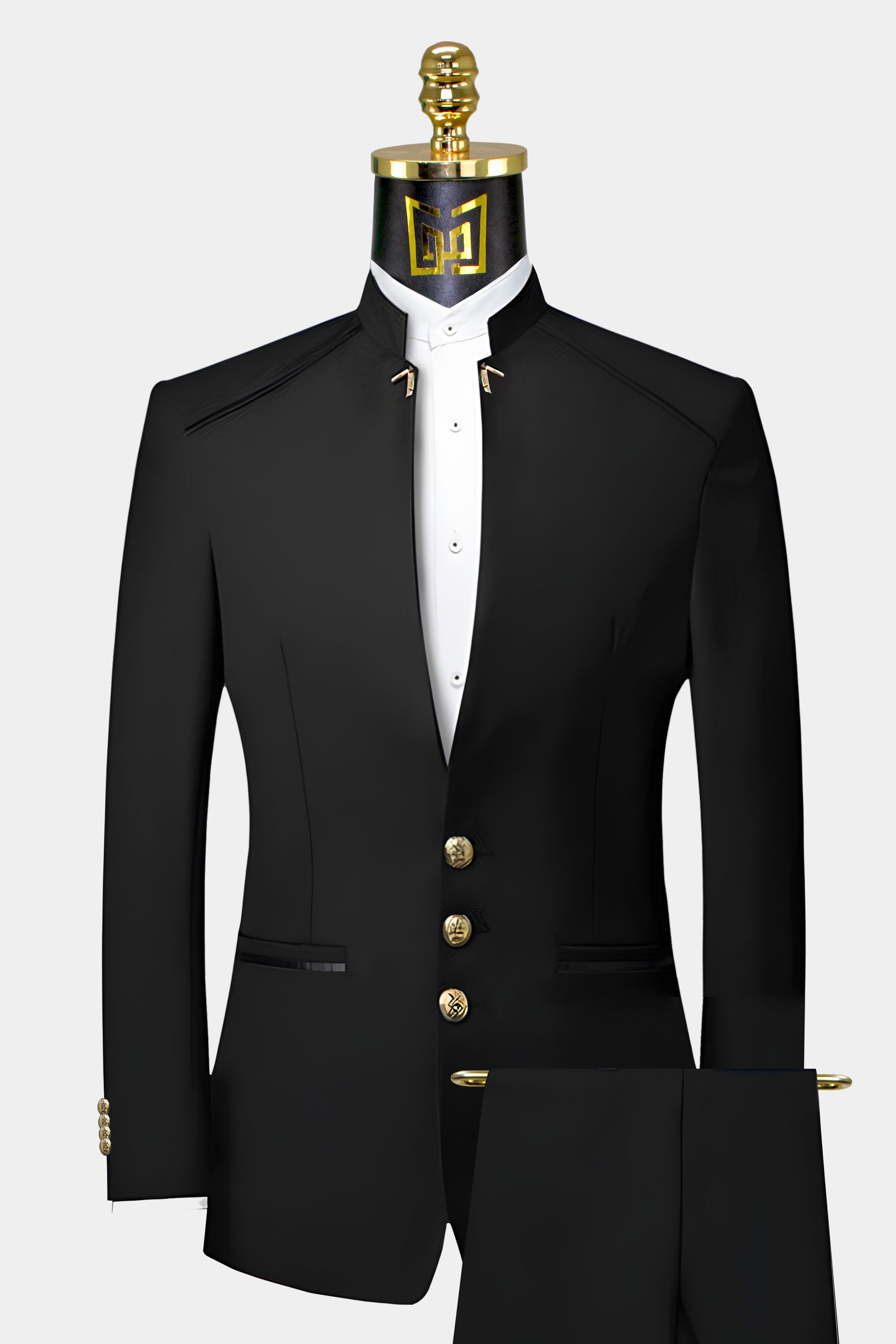 6 – The Black Mandarin Collar Homecoming Suit – 2 Piece
This mandarin collar homecoming suit is ideal if you wish to stand out in a subtle way. The open-necked style of collar has made its mark in the world of fashion and is still a style staple for men. The jacket is slim fit with slight silver embellishments around the neck, and a row of polished buttons that gleam wonderfully against the crisp black background. It flatters your frame in the right way – your date won't be able to take her eyes off you!
Shop Now
5 – The Royal Blue & Silver Porcelain Print Tuxedo – 3 Piece
When accessories don't match the tuxedo, you tend to stand out in the wrong way. So why not pick a tux that doesn't require many accessories? This blue and silver porcelain print forms a fascinating duo indeed! The vibe emanated from this ensemble is soothing and charming at the same time. All you need is a black bow tie and pocket square, and you are all set – this 3-piece tux works its magic on your date and everyone else present around you. Homecoming is sure to be rocking this year!
Shop Now
4 – The Black Floral Tuxedo with Gold Shawl Lapel – 3 Piece
The current trend is to match your attire with your date's homecoming dress – it is an excellent idea, so you can enter the venue as a couple. This black floral tux is a fabulous choice, as the color goes with practically everything. The self-embossed floral embellishments are gorgeous to say the least; your date will certainly appreciate your sense of style. The "cherry on the cake" are the shiny gold shawl lapels that double as accessories, so you don't have to invest much effort in picking those separately.
Shop Now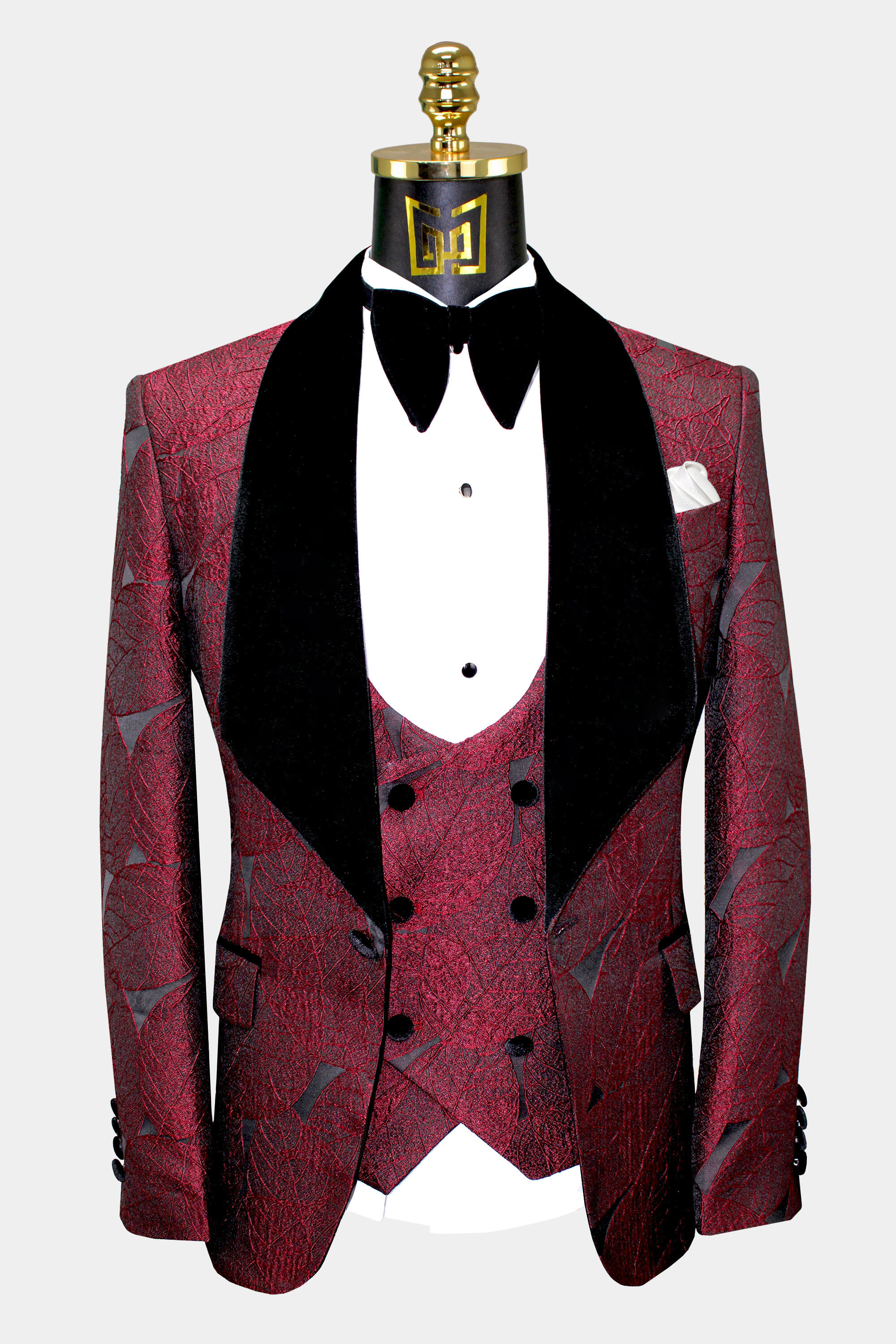 3 – The Deluxe Burgundy Tuxedo with Black Velvet Lapel – 3 Piece
Aha – a chip off the old classic block! If you wish to stick to a safe option, yet experiment a bit with the color, this homecoming outfit is just what you are looking for. The burgundy color is splashed with bits of black – the look speaks volumes about elegance and poise. The velvet lapels in black are draped artfully across the front, providing the apt finishing touch to the jacket. Dark colors were a hit during previous homecoming, so you can easily choose this outfit – heads will turn for sure!
Shop Now
2 – The Black & Silver Floral Tuxedo with Shawl Lapel – 3 Piece
Homecoming is a special occasion, so the outfit chosen has to be equally memorable. This amazing tuxedo is just what you are looking for! It makes you look dapper and sharp – the monochromatic tone perfectly suits your personality. The beautiful floral print in silver looks scintillating against the black backdrop. If you wish to add a hint of color, opt for a pocket square in red or maroon (or a deep color). Black and silver matches with practically everything, so you don't have to worry about clashing with your date's dress!
Shop Now
1 – The Deluxe Scarlet Red & Gold Royal Print Tuxedo – 3 Piece
Paint the town (or rather the homecoming) red with this stunner of a tux! The incredibly detailed floral print embellished across the fabric in gold, lends a regal touch to your attire for sure. Red and gold always make a dynamic combination, and it won't disappoint this time too. Show off your flamboyant side during homecoming – what better time can there be to bring out the wild streak in yourself? Don't be surprised if your friends bombard you about fashion tips on how to dress impeccably!
Shop Now
So what do you think? Spoilt for choice with so many marvelous options? Take your time and select wisely!
Best Selling Homecoming Outfits