Finally, the most eagerly anticipated night is right around the corner – PROM NIGHT! You need the perfect prom suits to look fabulous, ooze confidence, and also ensure your chances of winning Prom King go up! The right tuxedo can help to accomplish the purpose – it works wonders for your overall appearance.
Here are 10 of the best prom tuxedos we have put together to cater to your tastes and preferences: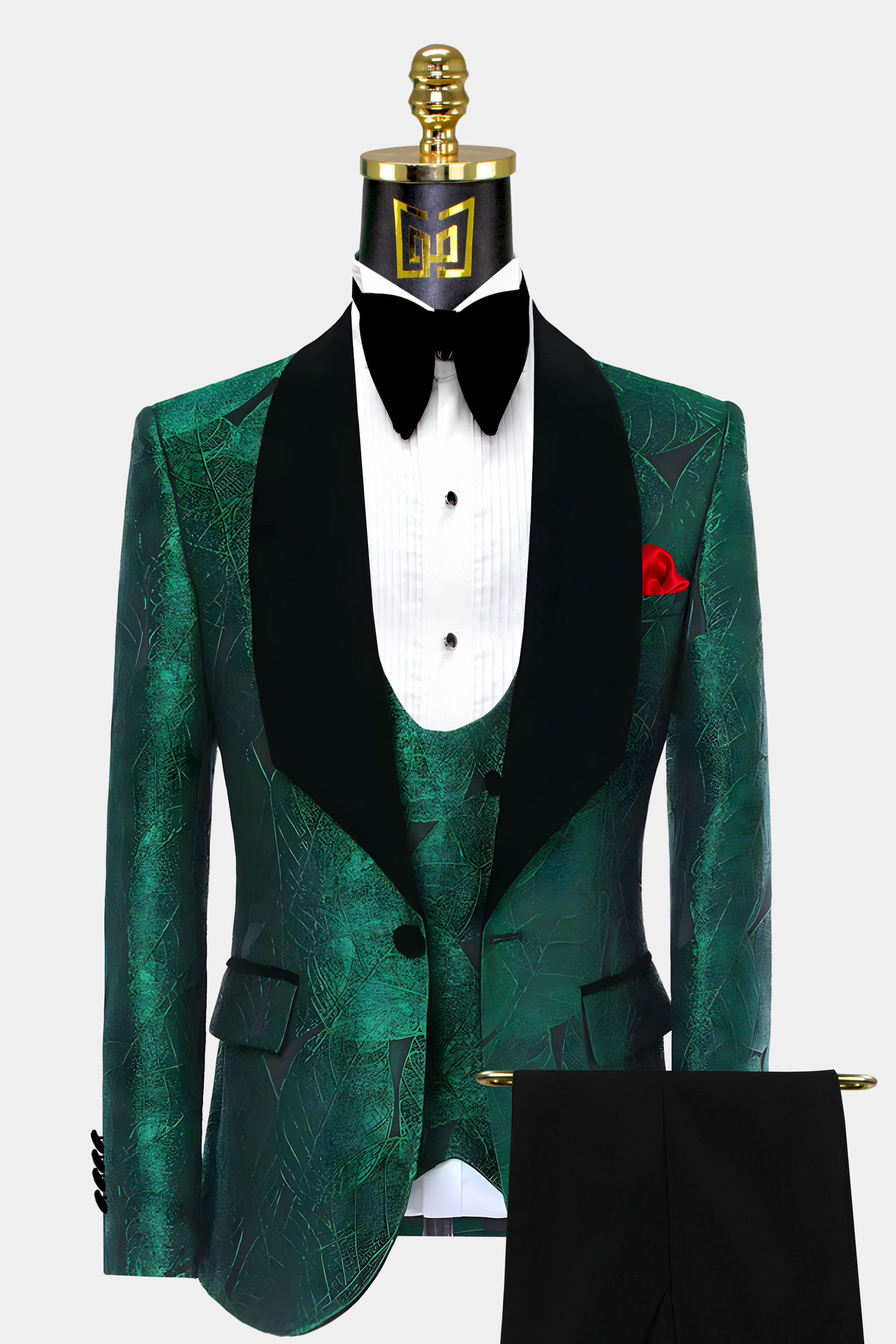 1 – The Fancy Emerald Green Tuxedo with Black Velvet Lapel – 3 Piece
This tux is fit for a prince – that is how you look and feel. The gorgeous emerald color is what people love about the outfit, while the black velvet lapel gives the apt finishing touch. Do tuck in a nice little pocket square to complete the attire. Wear it to prom night and you are a shoo-in for the title of "Prom King". After all no one can ignore such an impeccable sense of style, right?
Shop Now
2 – The Deluxe Floral White & Burgundy Tuxedo – 3 Piece
This prom suit is perfect for a man who is unafraid to go the extra mile to stand out in the crowd! Who said floral patterns are only for women? This stunningly designed tuxedo in pristine white couldn't be any more masculine with its intricate floral embroidery. The burgundy bits provide a stark contrast that is incredibly exciting. Why not ask your date to wear an outfit with the same colors?
Shop Now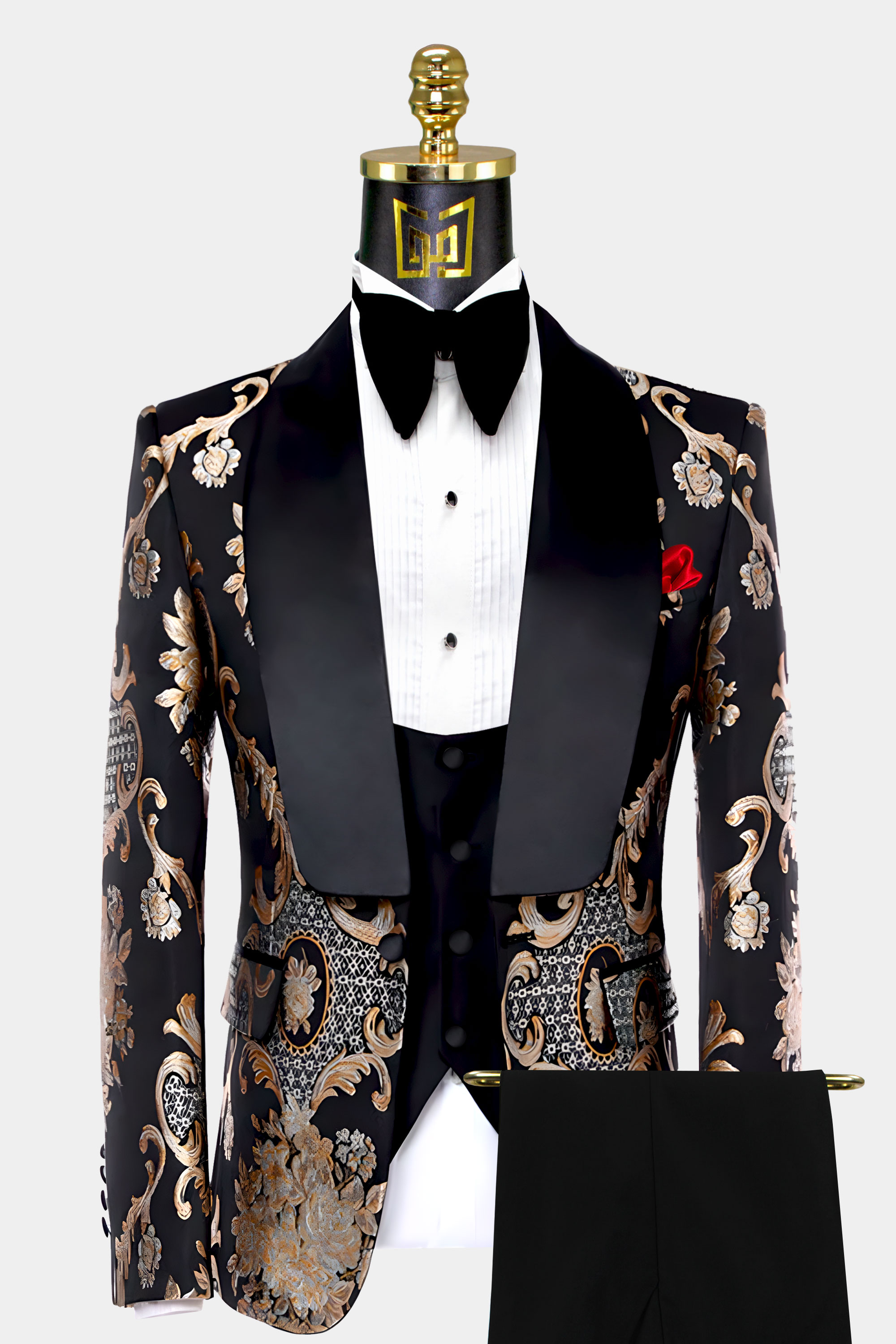 3 – The Royal Print Champagne & Black Tuxedo
A regal aura is needed for a king, so what if it is the title of Prom King? This prom tux oozes a majestic vibe that ensures you are the center of attraction all night. The striking print, along with the beautiful contrast created by black and champagne accents, is the USP of this outfit. The large silky lapels are also worth a mention. Your outfit will be a rage for sure!
Shop Now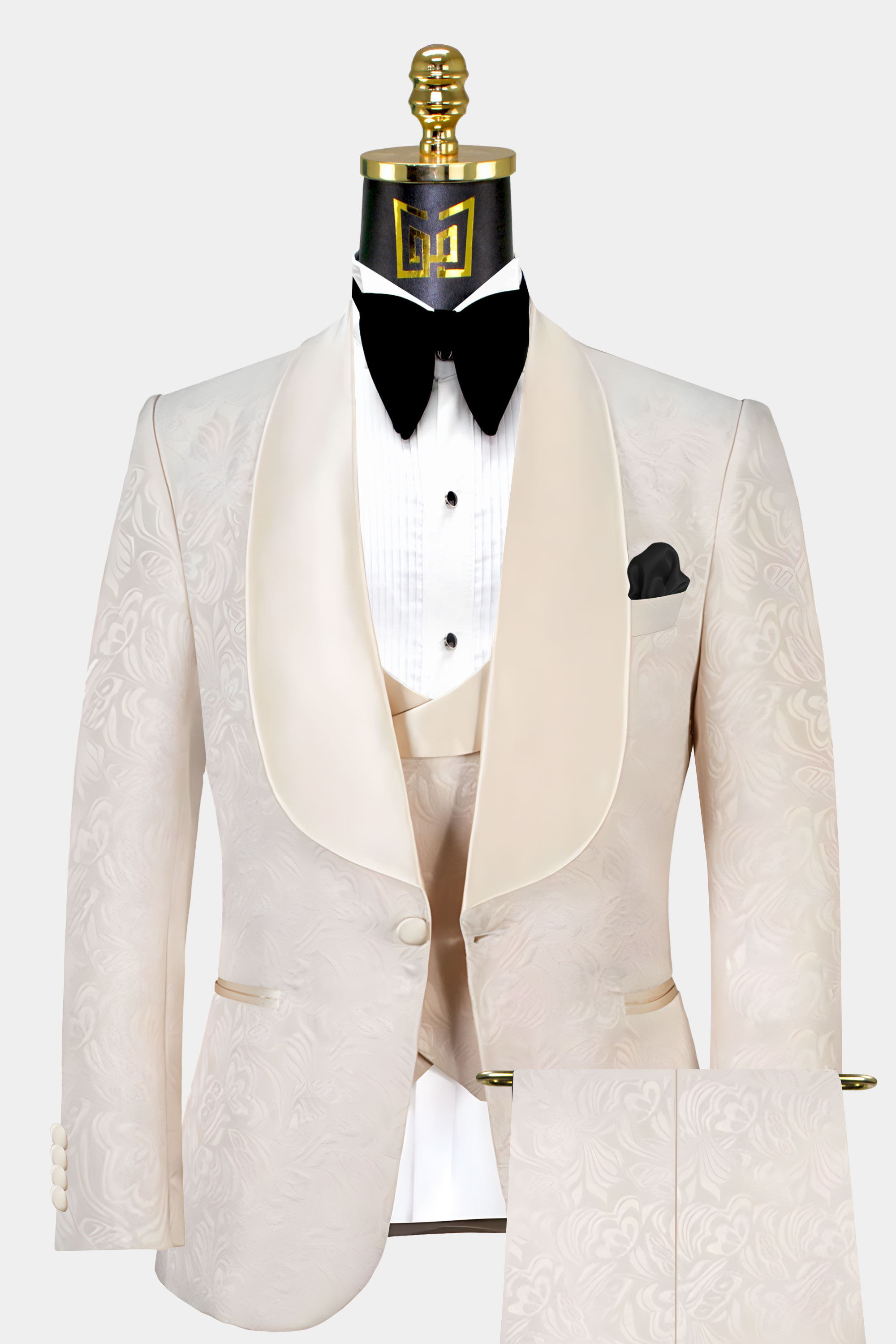 4 – The Floral All Champagne Tuxedo – 3 Piece
A tuxedo needn't always have dark elements in order to look classy. This champagne colored tux breaks stereotypes and proves how pastel shades can be eye-catching as well. The neat and intricate floral design accentuates the visual appeal of this ensemble. Incorporate a bit of contrast with a dark pocket square. Your outfit can be a fantastic match to that of your date, especially if she is wearing something light-colored.
Shop Now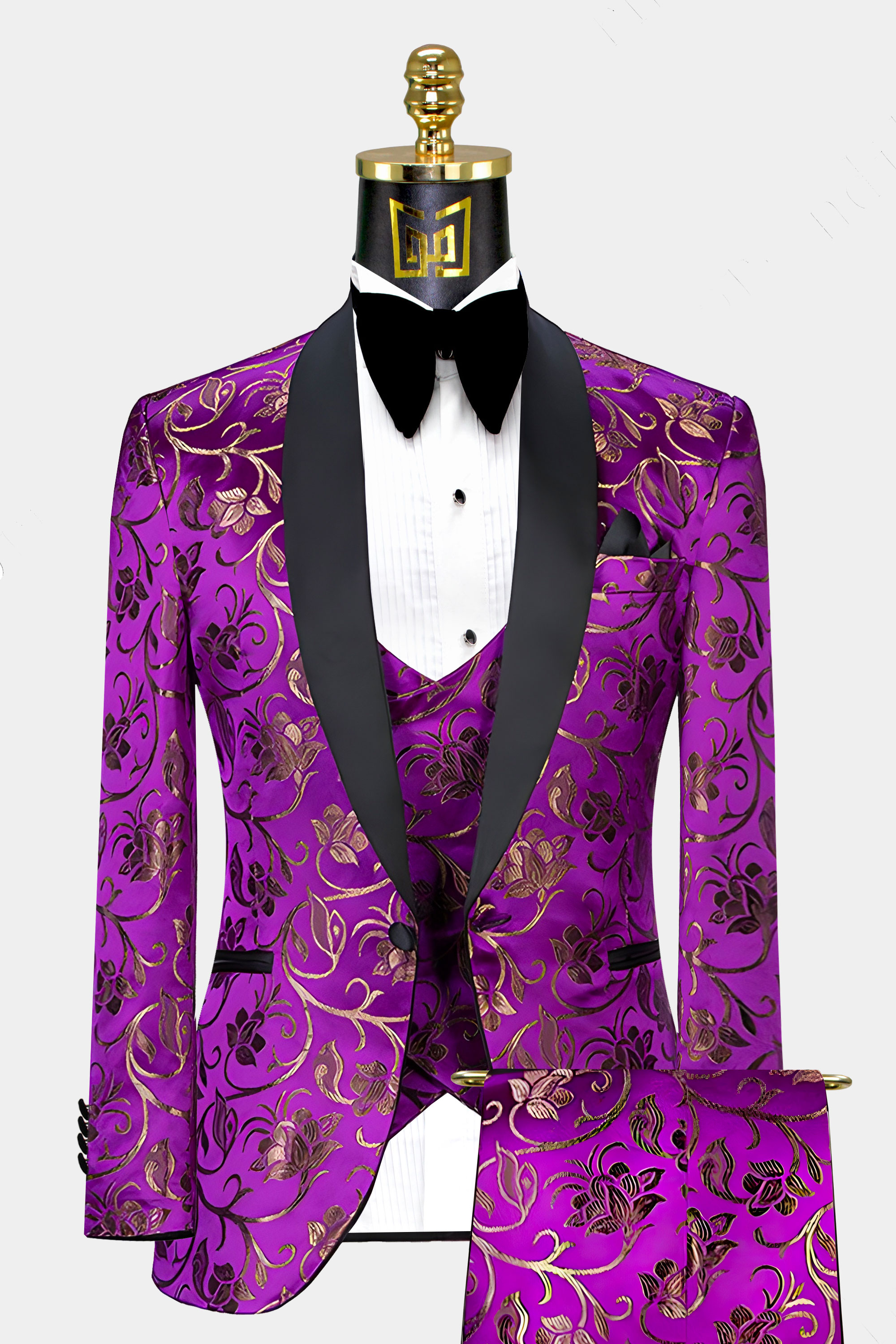 5 – The Royal Purple & Gold Floral Tuxedo – 3 Piece
Ditch the typical black tux! It is time to step out of your comfort zone and try something flamboyant and remarkable, just like this purple and gold 3-piece ensemble. The brilliant purple shade lovingly highlights the dazzling gold floral embellishments on the jacket, waistcoat, and pants. You will be the life of the party once you enter the room – this year's prom is going to be all about your amazing fashion sense.
Shop Now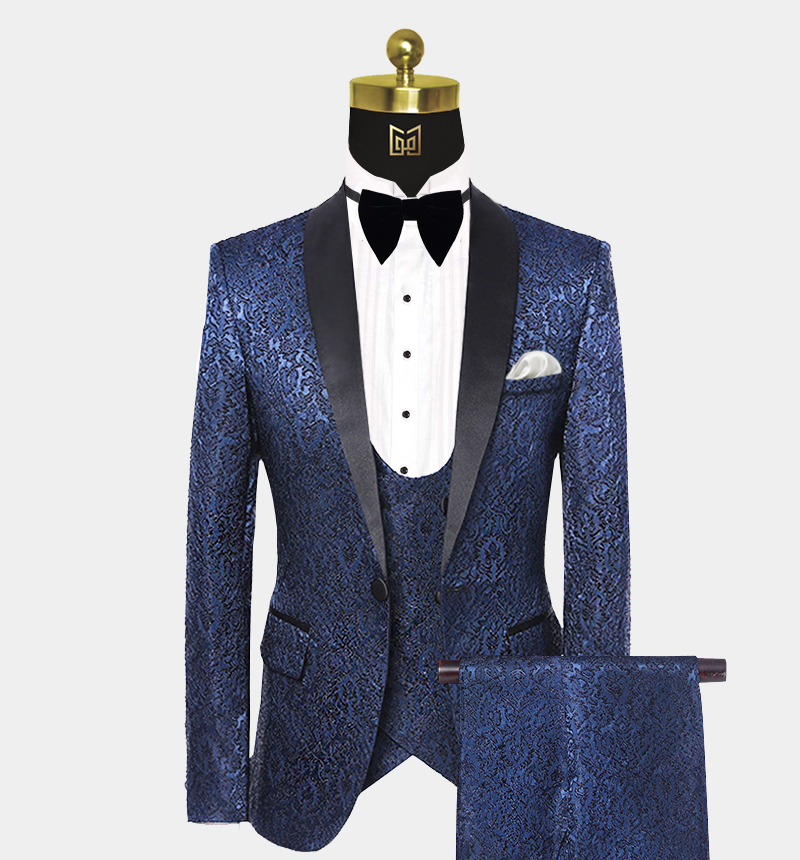 6 – The Navy Blue Damask Tuxedo with Black Lapel – 3 Piece
Damask patterns are spectacular, and in this case, it is highlighted by the stunning navy blue. The self-embossed prom tux speaks volumes about the fine workmanship involved, so you know for sure it will be a hit on prom night! Be prepared to turn heads and be bombarded with compliments about the awesome ensemble you are wearing. With a bit of confidence, poise, and smooth-talking you can own the party!
Shop Now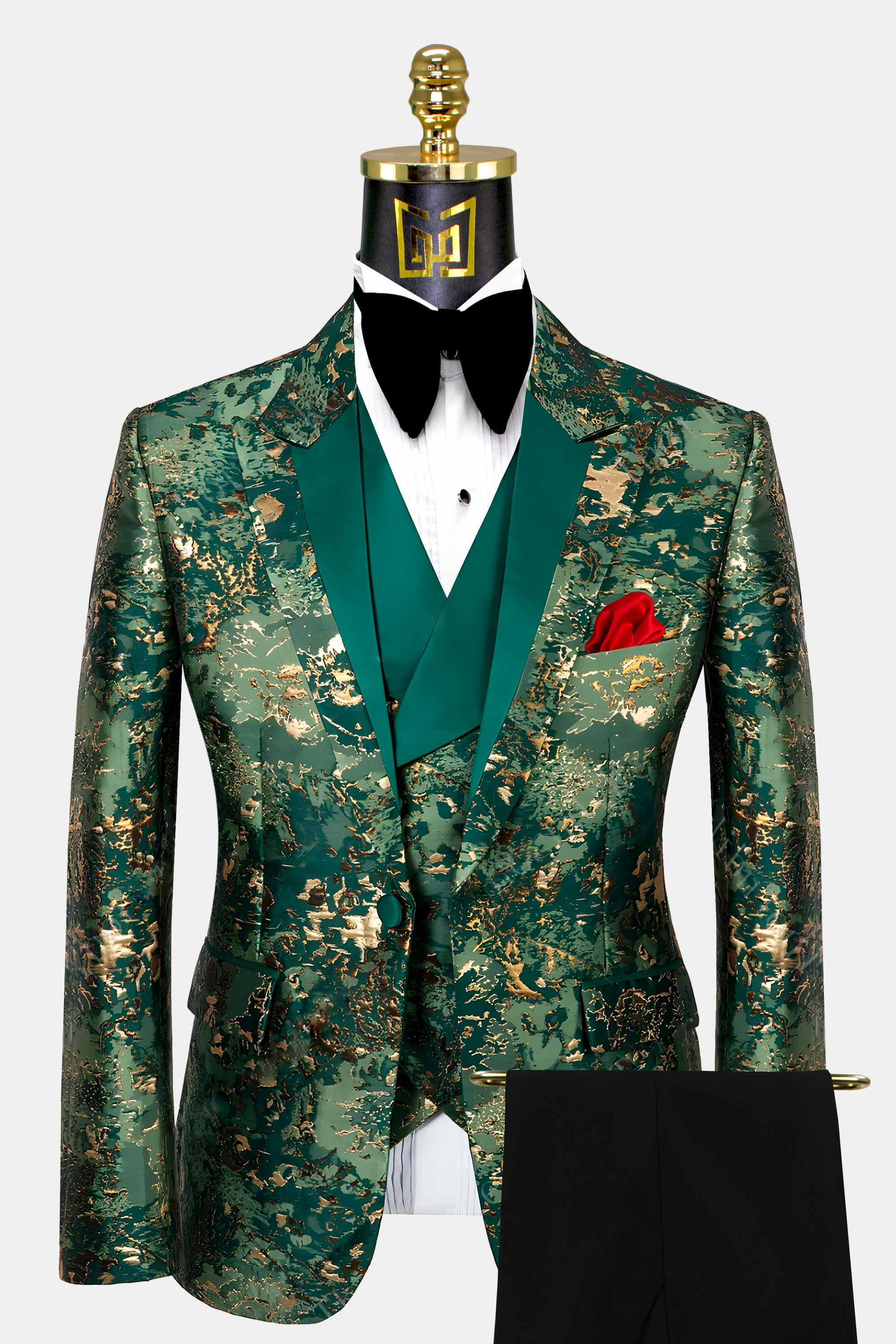 7 – The Green & Gold Camo Tuxedo – 3 Piece
Who knew that camo prints could look this elegant? This prom suit combines vivid hues of green with a magnificent gold camo pattern – it is an interesting experiment that strikes the right chord on prom night when you have to look your best. You can't go wrong with this ensemble (tuck in a red or maroon pocket square to complete your look) – this outfit will be talked about in next year's prom as well.
Shop Now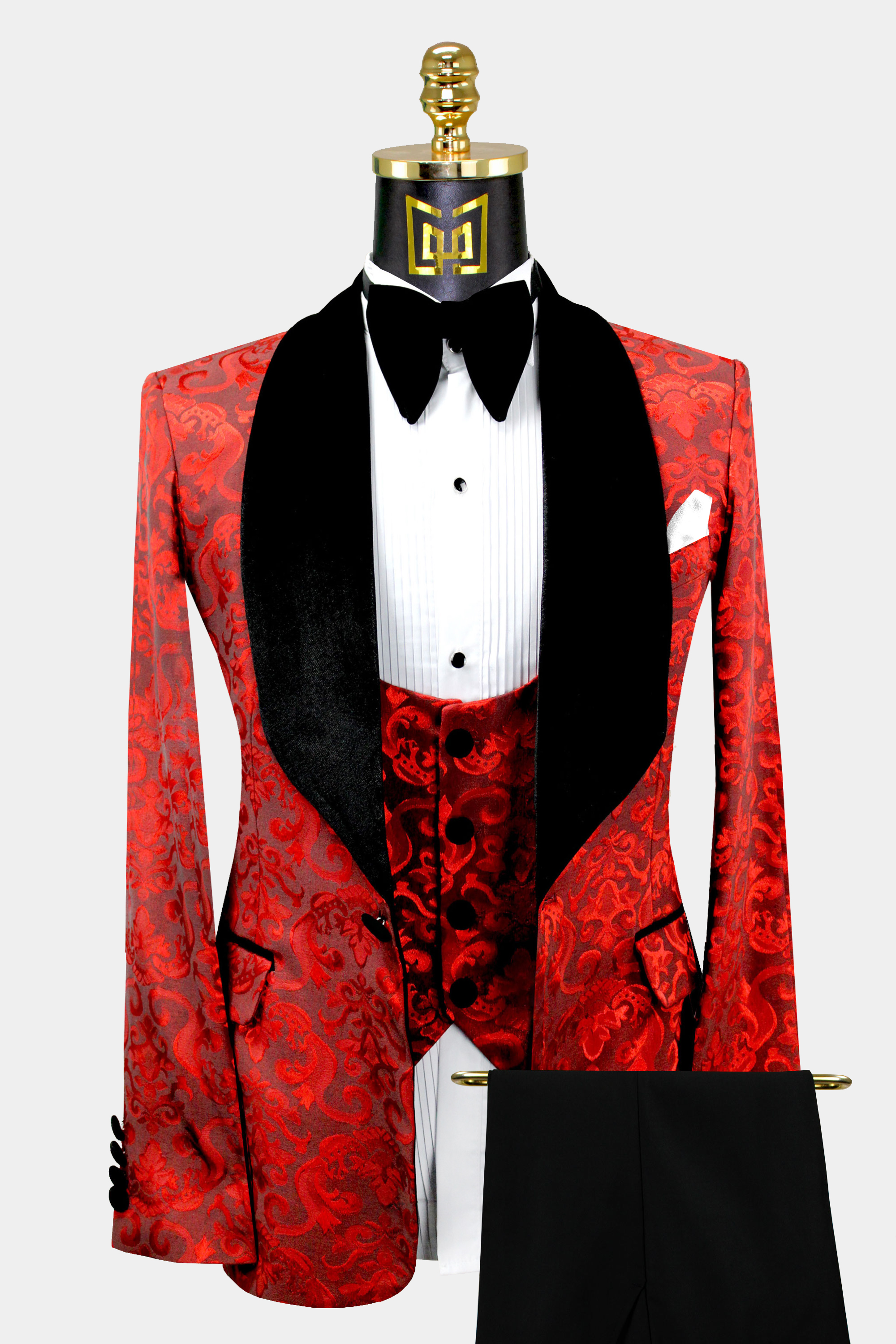 8 – The Damask Red & Black Tuxedo – 3 Piece
A fiery combination of colors with a superb and eye-catching pattern – prom night will end on a high note for you! The damask pattern in deep red is contrasted by black lapels – it creates an outstanding look that isn't easy to forget. Stride into the room with confidence and let your outfit speak for you. While it increases your chances of winning the title of Prom King, it certainly catapults you into the league of "Style Icon".
Shop Now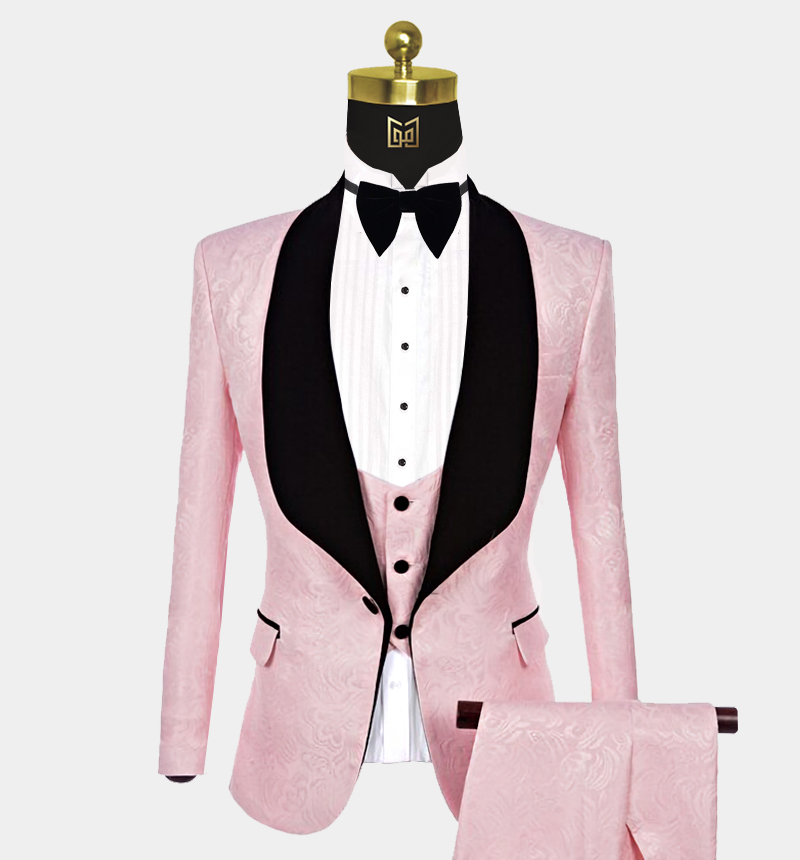 9 – The Floral Light Pink Tuxedo Suit with Black Shawl Lapel – 3 Piece
In the mood for a light-colored and elegant ensemble for the upcoming prom night? This light pink tux is right up your alley! The intricate floral embroidery catches your eye immediately, but the light pink hues sharply contrasted by broad black lapels is the real USP. Pair it with a white shirt and black bow tie – you will look incredibly suave and dapper. Your date won't leave your side for sure!
Shop Now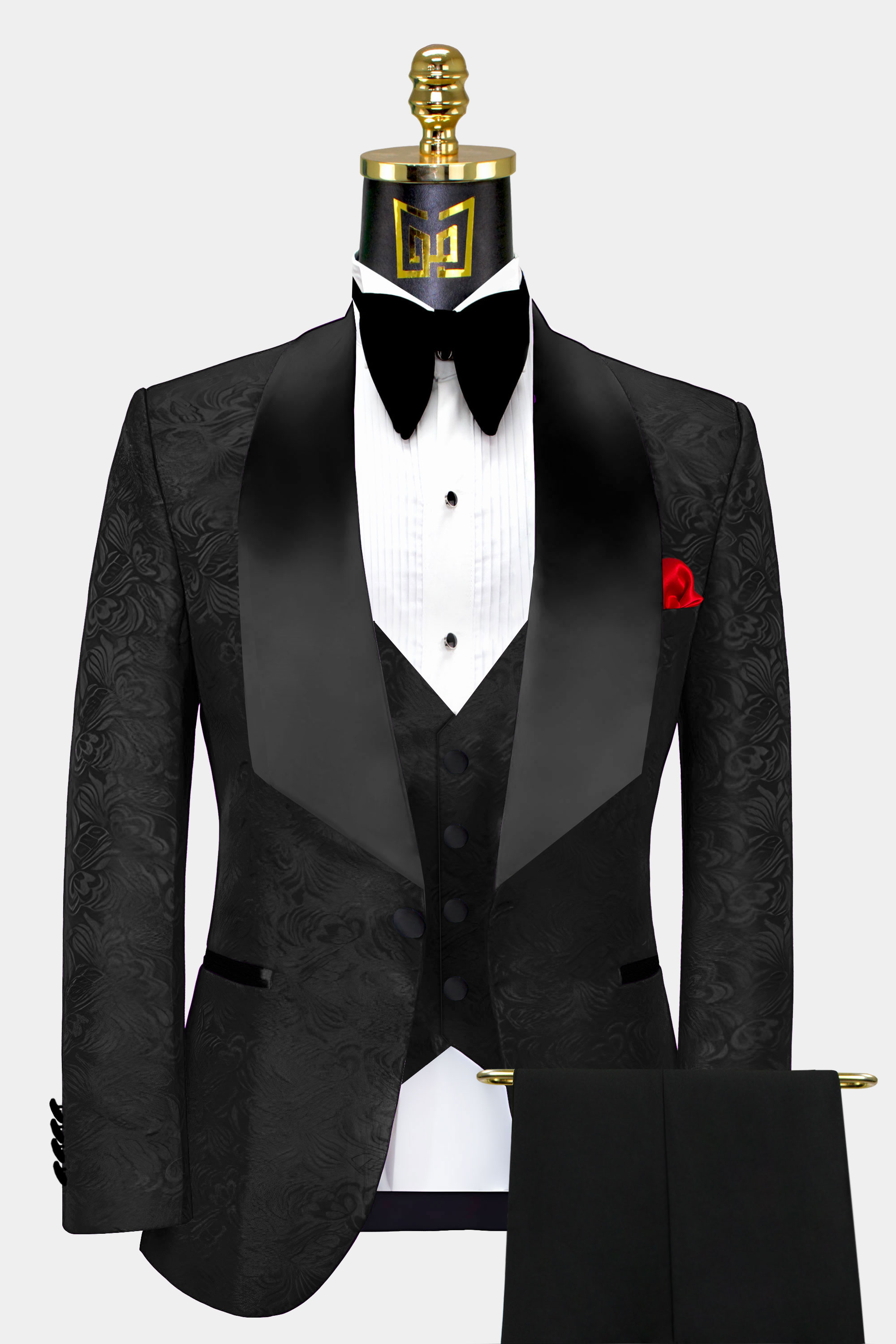 10 – The Floral All Black Tuxedo with Shawl Lapel – 3 Piece
Everyone should own a classic all-black tuxedo, just like this one! Black is an amazing color that works great for all occasions so prom isn't an exception. The beauty of this tux is the vivid floral embroidery on the jacket and waistcoat. A deep-colored pocket square tucked in, and you are all set to spend one of the most memorable nights of your life. You might just win "Prom King" solely for the outfit!
Shop Now
So what do you think? Spoilt for choice with so many marvelous options? Take your time and select wisely!